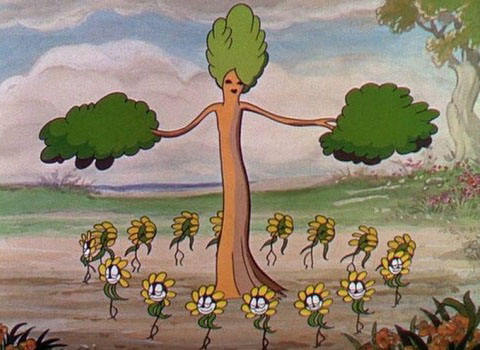 Flowers and Trees is a 1932 Silly Symphonies cartoon produced by Walt Disney, directed by Burt Gillett, and released to theaters by United Artists on July 30, 1932. It was the first commercially released film to be produced in the full-color three-strip Technicolor process after several years of two-color Technicolor films.
Flowers and Trees was already in production as a black-and-white cartoon before Disney saw Herbert Kalmus' three-strip Technicolor tests. Deciding that Flowers and Trees would make a perfect test for the process, he had the black-and-white footage scrapped and the short redone in color. The color Flowers and Trees was a commercial and critical success, winning the first Academy Award for Animated Short Subjects.
As a result of the success of Flowers and Trees, all future Silly Symphonies cartoons were produced in three-strip Technicolor. The added novelty of color helped to boost the series' previously disappointing returns. Disney's other cartoon series, the Mickey Mouse shorts, were deemed successful enough not to need the extra boost of color, remaining in black-and-white until 1935's The Band Concert.
Disney's exclusive contract with Technicolor, in effect until the end of 1935, forced other animators such as Ub Iwerks and Max Fleischer to use Technicolor's inferior two-color process or a competing two-color system such as Cinecolor.
https://www.youtube.com/watch?v=rH-OTZm0Xtk