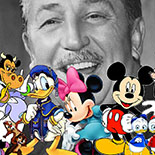 Walter Elias "Walt" Disney (December 5, 1901 – December 15, 1966) was an American business magnate, cartoonist, and filmmaker.
As a prominent figure within the American animation industry and throughout the world, he is regarded as a cultural icon, known for his influence and contributions to entertainment during the 20th century. As a Hollywood business mogul, he and his brother Roy O. Disney co-founded The Walt Disney Company.
As an animator and entrepreneur, Disney was particularly noted as a filmmaker and a popular showman, as well as an innovator in animation and theme park design. He and his staff created various fictional characters including Mickey Mouse, Donald Duck, and Goofy. Disney himself was the original voice for Mickey. During his lifetime, he received four honorary Academy Awards and won 22 Academy Awards from a total of 59 nominations, including a record of four in one year, giving him more awards and nominations than any other individual in history. Disney also won seven Emmy Awards and gave his name to the Disneyland and Walt Disney World Resort theme parks in the U.S., as well as the international resorts, Tokyo Disney Resort, Disneyland Paris, and Hong Kong Disneyland.