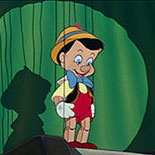 Pinocchio is a 1940 American animated musical fantasy film produced by Walt Disney Productions and based on the story The Adventures of Pinocchio by Carlo Collodi.
It is the second animated feature film produced by Disney. Made after the success of Snow White and the Seven Dwarfs, Pinocchio was released to theaters by RKO Radio Pictures on February 7, 1940.
The plot of the film involves an old wood-carver named Geppetto who carves a wooden puppet named Pinocchio who is brought to life by a blue fairy, who tells him he can become a real boy if he proves himself "brave, truthful, and unselfish". Thus begin the puppet's adventures to become a real boy, which involve many encounters with a host of unsavory characters. The film was adapted by Aurelius Battaglia, William Cottrell, Otto Englander, Erdman Penner, Joseph Sabo, Ted Sears, and Webb Smith from Collodi's book. The production was supervised by Ben Sharpsteen and Hamilton Luske, and the film's sequences were directed by Norman Ferguson, T. Hee, Wilfred Jackson, Jack Kinney, and Bill Roberts.
Initially a box office disaster to begin with, it eventually made a profit in its 1945 reissue and in time, it became the most prestigious, greatest, and critically acclaimed Disney animated feature film ever made, and as one of the greatest animated films of all time. Pinocchio became the first animated motion picture to win a competitive Academy Award; winning two for Best Music, Original Score and for Best Music, Original Song for its signature timeless, classic song "When You Wish upon a Star".