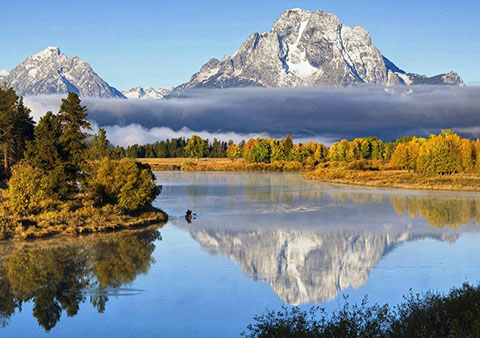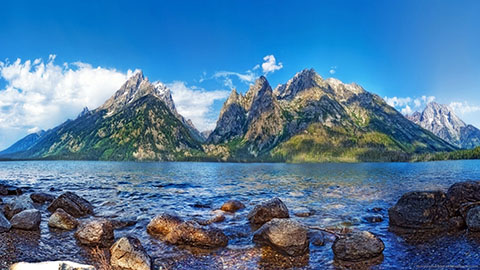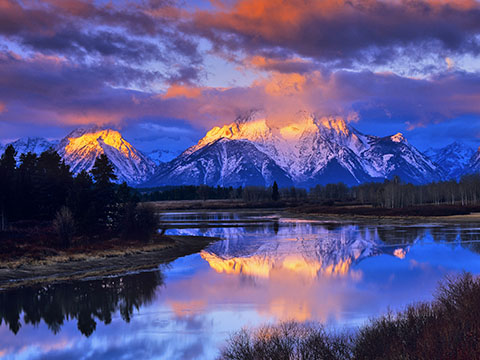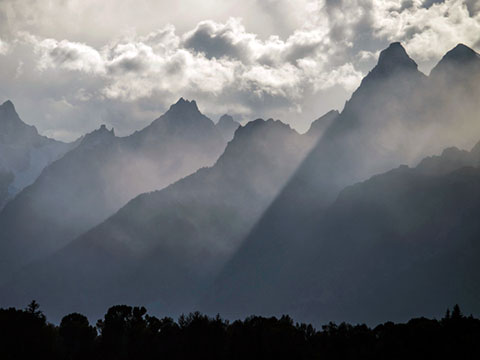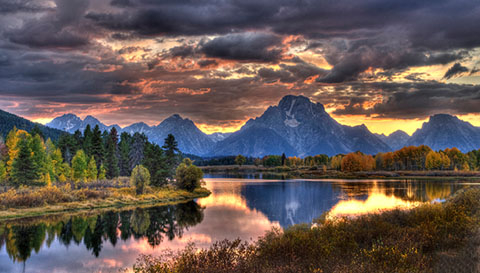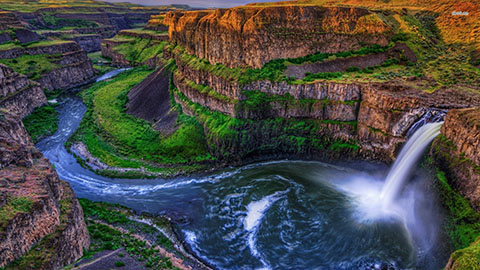 Grand Teton National Park is a United States National Park in northwestern Wyoming. At approximately 310,000 acres (480 sq mi; 130,000 ha; 1,300 km2), the park includes the major peaks of the 40-mile-long (64 km) Teton Range as well as most of the northern sections of the valley known as Jackson Hole. It is only 10 miles (16 km) south of Yellowstone National Park, to which it is connected by the National Park Service-managed John D. Rockefeller, Jr. Memorial Parkway. Along with surrounding National Forests, these three protected areas constitute the almost 18,000,000-acre (7,300,000 ha) Greater Yellowstone Ecosystem, one of the largest intact mid-latitude temperate ecosystems in the world.
Grand Teton National Park is named for Grand Teton, the tallest mountain in the Teton Range. The naming of the mountains is attributed to early 19th-century French-speaking trappers—les trois tétons (the three teats) was later anglicized and shortened to Tetons. At 13,775 feet (4,199 m), Grand Teton abruptly rises more than 7,000 feet (2,100 m) above Jackson Hole, almost 850 feet (260 m) higher than Mount Owen, the second-highest summit in the range. The park has numerous lakes, including 15-mile-long (24 km) Jackson Lake as well as streams of varying length and the upper main stem of the Snake River. Though in a state of recession, a dozen small glaciers persist at the higher elevations near the highest peaks in the range. Some of the rocks in the park are the oldest found in any U.S. National Park and have been dated at nearly 2.7 billion years.
Grand Teton National Park is an almost pristine ecosystem and the same species of flora and fauna that have existed since prehistoric times can still be found there. More than 1,000 species of vascular plants, dozens of species of mammals, 300 species of birds, more than a dozen fish species and a few species of reptiles and amphibians exist. Due to various changes in the ecosystem, some of them human-induced, efforts have been made to provide enhanced protection to some species of native fish and the increasingly threatened whitebark pine.