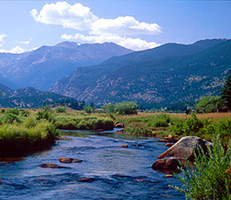 Rocky Mountain National Park is a national park located in the north-central region of the U.S. state of Colorado. It features majestic mountain views, mountain lakes, a variety of wildlife, varied climates and environments—from wooded forests to mountain tundra—and easy access to back-country trails and campsites. The park is located northwest of Boulder, Colorado, in the Rockies, and includes the Continental Divide and the headwaters of the Colorado River.
The park has five visitor centers. The park headquarters, Beaver Meadows Visitor Center, is a National Historic Landmark, designed by the Frank Lloyd Wright School of Architecture at Taliesin West.
The park is surrounded by Roosevelt National Forest on the north and east, Routt National Forest on the northwest, and Arapaho National Forest on the southwest.