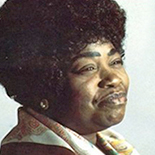 Marion Williams (August 29, 1927 – July 2, 1994) was an American gospel singer. Williams was born in Miami, Florida, to a religiously devout mother and musically inclined father. She left school when she was nine years old to help support the family, and worked as a maid, a nurse, and in factories and laundries. She began singing in front of audiences while young.
Poverty caused Williams to leave school at fourteen, working with her mother at a laundry, although she eventually graduated from Pacific Union College in 1987. She was singing at church and on street corners, inspired by a wide range of musicians, including Sister Rosetta Tharpe and the Smith Jubilee Singers. She stuck with gospel in spite of pressure to switch to popular blues tunes or the opera.
In 1946, while visiting a friend in Philadelphia, Williams happened to sing before an audience that included Clara and Gertrude Ward. They recognized her talent and offered her a job. A year later, she became part of the famous Ward Singers. Her growling, hands-on-the-hips vocal style made her the group's undisputed star. In 1958, she and other members of the Ward group formed the Stars of Faith. In 1965, Williams began her solo career. For the next 15 years, she toured the United States, Africa and the West Indies.
THE DAY IS PAST AND GONE
The day is past and gone
The evening shade appears
Oh, may we all remember well
The night of death draws near
We'll lay our garments by
And on our beds we rest
So death will soon disrobe us all
Of what we here possess
Lord, keep us safe this night
Secure from all our fears
May angels guard us while we sleep
Till morning light appears
And when the early light
In view they onwards home
May we press on to reach thee, Christ
And after glory run
And when our days are past
And we from time remove
Oh, may we in thy bosom rest
Thy bosom of thy love