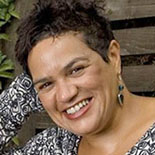 Jackie Kay (born November 9, 1961) is a Scottish poet and novelist. Jackie Kay was born in Edinburgh in 1961 to a Scottish mother and a Nigerian father. She was adopted as a baby by a white Scottish couple, Helen and John Kay, and grew up in a suburb of Glasgow.
Kay writes extensively for stage, screen and for children. In 2010 she published Red Dust Road, an account of her search for her natural parents. Her biological parents met when her father was a student at Aberdeen University and her mother was a nurse. Her drama The Lamplighter is an exploration of the Atlantic slave trade. It was broadcast on BBC Radio in poem form in 2008.
SOMEBODY ELSE
Jackie Kay
If I was not myself, I would be somebody else.
But actually I am somebody else.
I have been somebody else all my life.
It's no laughing matter going about the place
all the time being somebody else:
people mistake you; you mistake yourself.