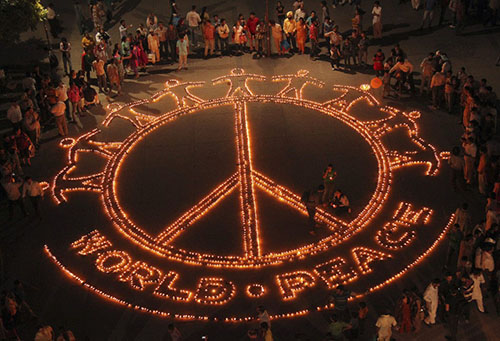 Diwali, popularly known as the "festival of lights," is a five-day Hindu festival, celebrated on the thirteenth lunar day of Krishna paksha (dark fortnight) of the Hindu calendar month Ashwin. In the Gregorian calendar, Diwali falls between mid-October and mid-November.
Diwali is an official holiday in India, Nepal, Sri Lanka, Myanmar, Mauritius, Guyana, Trinidad & Tobago, Suriname, Malaysia, Singapore and Fiji. For Hindus, Diwali is one of the most important festivals of the year and is celebrated in families by performing traditional activities together in their homes.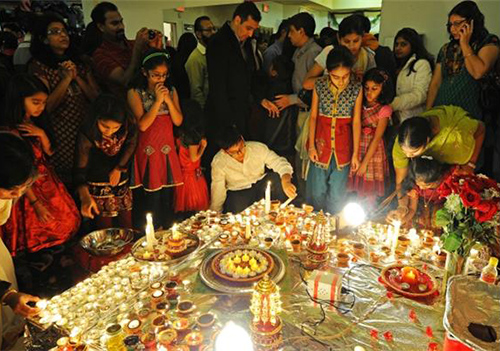 The name "Diwali" or "Divali" translates into "row of lamps". Diwali involves the lighting of small clay lamps filled with oil to signify the triumph of good over evil. These lamps are kept on during the night and one's house is cleaned, both done in order to make the goddess Lakshmi feel welcome. Firecrackers are burst because it is believed that it drives away evil spirits. During Diwali, all the celebrants wear new clothes and share sweets and snacks with family members and friends.
While Diwali is popularly known as the "festival of lights", the most significant spiritual meaning behind it is "the awareness of the inner light". Central to Hindu mythology is the belief that there is something beyond the physical body and mind which is pure, infinite, and eternal, called the Atman. The celebration of Diwali as the "victory of good over evil", refers to the light of higher knowledge dispelling all ignorance, the ignorance that masks one's true nature, not as the body, but as the unchanging, infinite, immanent and transcendent reality. With this awakening comes compassion and the awareness of the oneness of all things (higher knowledge). This brings anand (joy or peace). Just as we celebrate the birth of our physical being, Diwali is the celebration of this Inner Light.