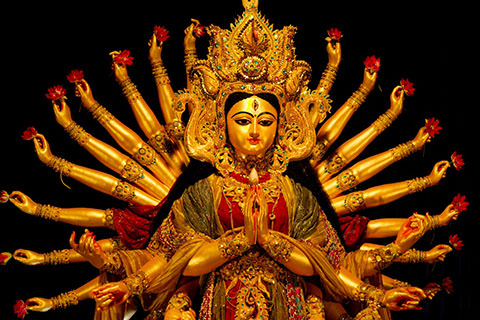 Vijayadashami (also known as Dussehra or Ayudhapuja) is an important Hindu festival celebrated in a variety of ways in India, Nepal, Sri Lanka. "Dussehra" is derived from Sanskrit; Dasha-hara is a form of Dashanan ravan ("Ravana's defeat").
The day marks the victory of Durga over the demon Mahishasura. The goddess fought with evil for ten days and nine nights. "Vijayadashami" is derived from the Sanskrit vijaya-dashami (victory on the dashami: the tenth day of the Hindu month). Diwali, the Festival of Lights, is celebrated twenty days after Vijayadashami.
Vijayadashami is celebrated on the tenth day of brighter fortnight the month of Ashwin according to the Hindu calendar, corresponding to September or October of the Gregorian calendar. The first nine days are celebrated as Navratri (Devnagari: "nine nights"), culminating on the tenth day as Dussehra.
Since the harvest season begins in India and Nepal at this time, the Durga is invoked by religious rituals to begin the harvest season and renew the fertility of the soil. Many Hindus observe the festival with social gatherings and food offerings to the gods at home and in temples throughout India and Nepal.
In Kashmir, Himachal Pradesh, Uttar Pradesh, Haryana, Punjab, Uttarakhand and western Bihar, it is tradition to plant barley in earthen pots on the first day of Navratri. On the day of Dasara, the nine-day-old sprouts (called noratras or nortas) are used for luck; men place them in their caps or behind their ears.
In most of northern India and some parts of Maharashtra, Dasha-Hara is celebrated in honour of Rama. Plays based on the Ramayana(Ramlila) are performed at outdoor fairs, and large parades with effigies of Ravana (a king of ancient Sri Lanka), Kumbhakarna and Meghanada are held. The effigies are burnt on bonfires in the evening. After Dasara, the hot summer ends (especially in North India) and the onset of cold weather is believed to encourage infections. The burning of the effigies, filled with firecrackers containing phosphorus, supposedly purifies the atmosphere.
Vijayadashami, celebrated in a variety of ways in South India, is seen as a day to express gratitude for success in life. Celebrations range from worshipping Durga to displaying colorful figurines, known as a golu. To respect the deities' sacrifices, Hindus revere murities (small statues of gods and goddesses) during festivals.