Marc Zaharovich Chagall (July 6, 1887 – March 28, 1985) was a Russian artist associated with several major artistic styles and one of the most successful artists of the 20th century. He was an early modernist, and created works in virtually every artistic medium, including painting, book illustrations, stained glass, stage sets, ceramic, tapestries and fine art prints.
Photo © Abraham Menashe
—————————————————————————–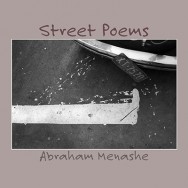 Tribute to Marc Chagall, from Street Poems, by Abraham Menashe, available from iTunes.