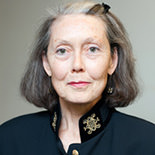 Anne Carson (born June 21, 1950) is a Canadian poet, essayist, translator, and professor of Classics. Carson lived in Montreal for several years and taught at McGill University, the University of Michigan, and at Princeton University from 1980 to 1987. She was a 1998 Guggenheim Fellow, and in 2000 she was awarded a MacArthur Fellowship. She has also won a Lannan Literary Award.
BRIDE TOWN
Anne Carson
Hanging on the daylight black.
As an overcoat with no man in it one cold bright.
Noon the Demander was waiting for me.