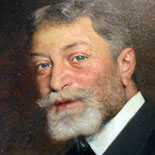 Sir Paolo Tosti (April 9, 1846 – December 2, 1916) was an Italian, later British, composer and music teacher.
Tosti is remembered for his light, expressive songs, which are characterized by natural, singable melodies and sweet sentimentality. He is also known for his editions of Italian folk songs entitled "Canti popolari Abruzzesi".
His style became very popular during the Belle Époque and is often known as salon music. There is, however, much evidence (albeit fleeting) of a more serious composer particularly in the "Canti popolari Abruzzesi" (above) particularly in the introduction to No.8 First Waltz.
His most famous works are Serenata (lyrics: Cesareo), Good-bye! (lyrics: George J. Whyte-Melville) which is sometimes performed in Italian as Addio (lyrics: Rizzelli), and the popular Neapolitan song, Marechiare, the lyrics of which are by the prominent Neapolitan dialect poet, Salvatore Di Giacomo. Malia, Ancora and Non t'amo piu were and remain popular concert pieces.
Tosti wrote well for the voice, allowing, indeed encouraging, interpretation and embellishment from operatic singers. Most artists, therefore, specializing in the classical Italian repertoire have performed and recorded Tosti songs; yet Tosti never composed opera. Notable examples on record include Alessandro Moreschi (the only castrato who ever recorded) singing "Ideale", Mattia Battistini singing "Ancora", Nellie Melba singing "Mattinata" and Jussi Björling singing "L'alba separa dalla luce l'ombra".