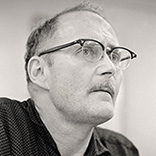 William Eugene Smith (December 30, 1918 – October 15, 1978) was an American photojournalist known for his refusal to compromise professional standards and his brutally vivid World War II photographs.
Smith began his career by taking pictures for two local newspapers, The Wichita Eagle (morning circulation) and the Beacon (evening circulation). He moved to New York City and began work for Newsweek and became known for his incessant perfectionism and thorny personality. Smith was fired from Newsweek for refusing to use medium format cameras and joined Life Magazine in 1939 using a 35mm camera. In 1945 he was wounded while photographing battle conditions in the Pacific theater of World War II.
As a correspondent for Ziff-Davis Publishing and then Life again, Smith entered World War II on the front lines of the island-hopping American offensive against Japan, photographing U.S. Marines and Japanese prisoners of war at Saipan, Guam, Iwo Jima, and Okinawa. On Okinawa, Smith was hit by mortar fire. After recovering, he continued at Life and perfected the photo essay from 1947 to 1954.
Smith severed his ties with Life over the way in which the magazine used his photographs of Albert Schweitzer. Upon leaving Life, Smith joined the Magnum photo agency in 1955. There he started his project to document Pittsburgh. This project was supposed to take him three weeks, but spanned three years and tens of thousands of negatives. It was too large ever to be shown, although a series of book-length photo essays were eventually produced.
From 1957 to 1965 he took photographs and made recordings of jazz musicians at a Manhattan loft shared by David X. Young, Dick Cary and Hall Overton.
In January 1972, Smith was attacked by Chisso employees near Tokyo, in an attempt to stop him from further publicizing the Minamata disease to the world.Although Smith survived the attack, his sight in one eye deteriorated. Smith and his Japanese wife lived in the city of Minamata from 1971 to 1973 and took many photos as part of a photo essay detailing the effects of Minamata disease, which was caused by a Chisso factory discharging heavy metals into water sources around Minamata. One of his most famous works, Tomoko Uemura in Her Bath, taken in December 1971 and published a few months after the 1972 attack, drew worldwide attention to the effects of Minamata disease.
Complications from his longterm consumption of drugs,notably amphetamines (taken to enable his workaholic tendencies), and alcohol led to a massive stroke, from which Smith died in 1978. He is buried in Crum Elbow Cemetery, Pleasant Valley, New York.
Smith was perhaps the originator and arguably the master of the photo-essay. In addition to Pittsburgh, these works include Nurse Midwife, Minamata, Country Doctor, and Albert Schweitzer – A Man of Mercy.
Today, Smith's legacy lives on through the W. Eugene Smith Memorial Fund to promote "humanistic photography". Since 1980, the fund has awarded photographers for exceptional accomplishments in the field.