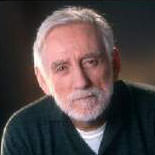 Rodney Marvin "Rod" McKuen (April 29, 1933 – January 29, 2015) was an American singer-songwriter, musician and poet.
He was one of the best-selling poets in the United States during the late 1960s. Throughout his career, McKuen produced a wide range of recordings, which included popular music, spoken word poetry, film soundtracks and classical music. He earned two Academy Award nominations and one Pulitzer nomination for his music compositions. McKuen's translations and adaptations of the songs of Jacques Brel were instrumental in bringing the Belgian songwriter to prominence in the English-speaking world. His poetry deals with themes of love, the natural world and spirituality. McKuen's songs sold over 100 million recordings worldwide, and 60 million books of his poetry were sold as well, according to the Associated Press.
THE NEED
Rod McKuen
It's nice sometimes

to open up the heart a little
and let some hurt come in.
It proves you're still alive.
If nothing else
it says to you—
clear as a high hill air,
uncomfortable
as diving through cold water—
I'm here.
However wretchedly I feel,
I feel.
I'm not sure
why we cannot shake
the old loves
from our minds.
It must be that
we build on memory
and make them more
than what they were.
And is the manufacture
just a safe device
for closing up the wall?
I do remember.
the only fuzzy circumstance
is sometimes where and how.
Why, I know.
It happens
just because we need
to want to be
wanted, too,
when love is here or gone
to lie down in the darkness
and listen to the warm.