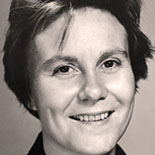 Nelle Harper Lee (April 28, 1926 – February 19, 2016) was an American novelist.
She is widely known for her 1960 Pulitzer Prize-winning To Kill a Mockingbird which deals with the racism she observed as a child in her hometown of Monroeville, Alabama. Though Lee only published this single book for half a century, she was awarded the Presidential Medal of Freedom for her contribution to literature. Lee has received numerous honorary degrees, and declined to speak on each occasion. Lee assisted close friend Truman Capote in his research for the book In Cold Blood (1966).
In February 2015 at age 88, nearly blind and deaf after a 2007 stroke, and after a lifetime of maintaining that she would never publish another novel, Lee released a statement through her attorney that "I'm alive and kicking and happy as hell with the reactions of Watchman," that Lee would publish a second novel, Go Set a Watchman (set to be published on July 14, 2015), written before To Kill a Mockingbird.