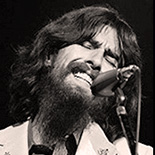 George Harrison, (February 25, 1943 – November 29, 2001) was an English musician, singer and songwriter who achieved international fame as the lead guitarist of the Beatles.
John Lennon and Paul McCartney were the band's primary songwriters, but most of their albums included at least one Harrison composition, including "While My Guitar Gently Weeps", "Here Comes the Sun" and "Something", the Beatles' second most-covered song.
By 1965 he had begun to lead the other members of the Beatles into folk rock through his interest in the Byrds and Bob Dylan, and towards Indian classical music through his use of the sitar on "Norwegian Wood (This Bird Has Flown)". He developed an interest in the Hare Krishna movement and became an admirer of Indian culture and mysticism, introducing them to the other Beatles and their Western audience by incorporating Indian instrumentation in their music. After the band's break-up in 1970, Harrison released the triple album All Things Must Pass, from which two hit singles originated. He also organized the 1971 Concert for Bangladesh with Ravi Shankar, a precursor for later benefit concerts such as Live Aid. Harrison was a music and film producer as well as a musician; he founded Dark Horse Records in 1974 and co-founded HandMade Films in 1978.
Harrison released several best-selling singles and albums as a solo performer, and in 1988 co-founded the platinum-selling supergroup the Traveling Wilburys. A prolific recording artist, he was featured as a guest guitarist on tracks by Badfinger, Ronnie Wood and Billy Preston, and collaborated on songs and music with Bob Dylan, Eric Clapton and Tom Petty, among others. Rolling Stone magazine ranked him number 11 in their list of the "100 Greatest Guitarists of All Time".
Harrison's first marriage, to Pattie Boyd, ended in divorce in 1977. The following year he married Olivia Trinidad Arias, with whom he had one son, Dhani. Harrison died in 2001, aged 58, from lung cancer. He was cremated and his ashes were scattered in the Ganges and Yamuna rivers in India, in a private ceremony according to Hindu tradition.
"My Sweet Lord" is a song by English musician George Harrison, released in November 1970 on his multi-platinum triple album All Things Must Pass. Also issued as a single – Harrison's first as a solo artist – "My Sweet Lord" topped charts worldwide and was the biggest-selling single of 1971 in Britain. The song was originally given to fellow Apple Records artist Billy Preston to record and was released on Preston's Encouraging Words album, two months before Harrison's version appeared.
The song was written in praise of the Hindu god Krishna, while at the same time serving as a call to abandon religious sectarianism, through its deliberate blending of Christian "hallelujah"s with chants of "Hare Krishna" and Vedic prayer. The recording features co-producer Phil Spector's Wall of Sound treatment and heralded the arrival of Harrison's much-admired slide guitar technique, described by one biographer as being "musically as distinctive a signature as the mark of Zorro".
"My Sweet Lord" was at the centre of a heavily publicised plagiarism suit due to its similarity to the Ronnie Mack song "He's So Fine", a 1963 hit for the New York girl group the Chiffons. In 1976, Harrison was found to have "subconsciously" plagiarised the earlier tune, a verdict that had repercussions throughout the music industry.
Harrison performed "My Sweet Lord" at the Concert for Bangladesh in August 1971 and it remains the most popular composition from his post-Beatles career. Numerous artists have covered the song, including Andy Williams, Peggy Lee, Edwin Starr, Johnny Mathis, Nina Simone, Julio Iglesias, Richie Havens, Megadeth, Boy George, Elton John, Jim James, Bonnie Bramlett and Elliott Smith. "My Sweet Lord" is ranked 460th on Rolling Stone magazine's list of "the 500 Greatest Songs of All Time". The song reached number 1 in Britain for a second time when re-released in January 2002, following Harrison's death two months before.
https://www.youtube.com/watch?v=8qJTJNfzvr8
MY SWEET LORD
George Harrison
My sweet lord
Hm, my lord
Hm, my lord
I really want to see you
Really want to be with you
Really want to see you lord
But it takes so long, my lord
My sweet lord
Hm, my lord
Hm, my lord
I really want to know you
Really want to go with you
Really want to show you lord
That it wont take long, my lord (hallelujah)
My sweet lord (hallelujah)
Hm, my lord (hallelujah)
My sweet lord (hallelujah)
I really want to see you
Really want to see you
Really want to see you, lord
Really want to see you, lord
But it takes so long, my lord (hallelujah)
My sweet lord (hallelujah)
Hm, my lord (hallelujah)
My, my, my lord (hallelujah)
I really want to know you (hallelujah)
Really want to go with you (hallelujah)
Really want to show you lord (aaah)
That it wont take long, my lord (hallelujah)
Hmm (hallelujah)
My sweet lord (hallelujah)
My, my, lord (hallelujah)
Hm, my lord (hare krishna)
My, my, my lord (hare krishna)
Oh hm, my sweet lord (krishna, krishna)
Oh-uuh-uh (hare hare)
Now, I really want to see you (hare rama)
Really want to be with you (hare rama)
Really want to see you lord (aaah)
But it takes so long, my lord (hallelujah)
Hm, my lord (hallelujah)
My, my, my lord (hare krishna)
My sweet lord (hare krishna)
My sweet lord (krishna krishna)
My lord (hare hare)
Hm, hm (gurur brahma)
Hm, hm (gurur vishnu)
Hm, hm (gurur devo)
Hm, hm (maheshwara)
My sweet lord (gurur sakshaat)
My sweet lord (parabrahma)
My, my, my lord (tasmayi shree)
My, my, my, my lord (guruve namah)
My sweet lord (hare rama)
[fade:]
(hare krishna)
My sweet lord (hare krishna)
My sweet lord (krishna krishna)
My lord (hare hare)