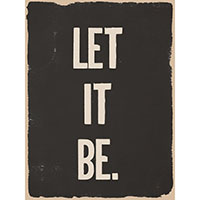 "Let It Be" is a song by The Beatles, released in March 6, 1970 as a single, and as the title track of their album Let It Be.
It was written by Paul McCartney and credited to Lennon/McCartney. It was the final single released by The Beatles before McCartney announced his departure from the band. Both the Let It Be album and the US single "The Long and Winding Road" were released after McCartney's announced departure from and subsequent break-up of the group.
"Let It Be" holds the number-one spot on "The Fans' Top 10" poll included in The 100 Best Beatles Songs: An Informed Fan's Guide by Stephen J. Spignesi and Michael Lewis. The song is number three in the 100 Best Beatles Songs list, only behind "Strawberry Fields Forever" and "A Day In The Life", which is number one.
McCartney said he had the idea of "Let It Be" after a dream he had about his mother during the tense period surrounding the sessions for The Beatles (the "White Album"). McCartney explained that his mother—who died of cancer when McCartney was fourteen—was the inspiration for the "Mother Mary" lyric. McCartney later said, "It was great to visit with her again. I felt very blessed to have that dream. So that got me writing 'Let It Be'." He also said in a later interview about the dream that his mother had told him, "It will be all right, just let it be."
The first rehearsal of "Let It Be" took place at Twickenham Film Studios on January 3, 1969, where The Beatles had the previous day begun what would become the Let It Be film. During this stage of the film the group was only recording on the mono decks used for syncing to the film cameras, and were not making multi-track recordings for release. A single take was recorded, with just McCartney on piano and vocals. The first group attempt was made on January 8. Work continued on the song throughout the month. Multi-track recordings commenced on January 23 at Apple Studios.
LET IT BE
Lyrics by Paul McCartney
When I find myself in times of trouble, Mother Mary comes to me
Speaking words of wisdom, let it be
And in my hour of darkness she is standing right in front of me
Speaking words of wisdom, let it be
Let it be, let it be, let it be, let it be
Whisper words of wisdom, let it be
And when the broken hearted people living in the world agree
There will be an answer, let it be
For though they may be parted, there is still a chance that they will see
There will be an answer, let it be
Let it be, let it be, let it be, let it be
There will be an answer, let it be
Let it be, let it be, let it be, let it be
Whisper words of wisdom, let it be
Let it be, let it be, let it be, let it be
Whisper words of wisdom, let it be
And when the night is cloudy there is still a light that shines on me
Shine until tomorrow, let it be
I wake up to the sound of music, Mother Mary comes to me
Speaking words of wisdom, let it be
Let it be, let it be, let it be, yeah, let it be
There will be an answer, let it be
Let it be, let it be, let it be, yeah, let it be
Whisper words of wisdom, let it be