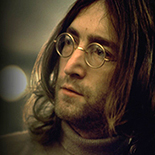 John Winston Ono Lennon, (born John Winston Lennon; October 9, 1940 – December 8, 1980) was an English musician, singer and songwriter who rose to worldwide fame as a founder member of the Beatles, one of the most commercially successful and critically acclaimed acts in the history of popular music. With Paul McCartney, he formed one of the most celebrated songwriting partnerships of the 20th century.
Born and raised in Liverpool, as a teenager Lennon became involved in the skiffle craze; his first band, the Quarrymen, evolved into the Beatles in 1960. As the group disintegrated towards the end of the decade, Lennon embarked on a solo career that produced the critically acclaimed albums John Lennon/Plastic Ono Band and Imagine, and iconic songs such as "Give Peace a Chance" and "Imagine". After his marriage to Yoko Ono in 1969, he changed his name to John Ono Lennon. Lennon disengaged himself from the music business in 1975 to devote time to raising his infant son Sean, but re-emerged with Ono in 1980 with the new album Double Fantasy. He was murdered three weeks after its release.
Controversial through his political and peace activism, he moved to New York City in 1971, where his criticism of the Vietnam War resulted in a lengthy attempt by Richard Nixon's administration to deport him, while some of his songs were adopted as anthems by the anti-war movement.
As of 2012, Lennon's solo album sales in the United States exceed 14 million units, and as writer, co-writer or performer, he is responsible for 25 number-one singles on the US Hot 100 chart. In 2002, a BBC poll on the 100 Greatest Britons voted him eighth, and in 2008, Rolling Stone ranked him the fifth-greatest singer of all time. He was posthumously inducted into the Songwriters Hall of Fame in 1987 and into the Rock and Roll Hall of Fame in 1994.
Norwegian Wood (This Bird Has Flown (also known as simply "Norwegian Wood"), first released on the 1965 album Rubber Soul. John Lennon was the primary writer, and finished writing the words and middle eight with Paul McCartney (credited to Lennon–McCartney). It is the first example of a rock band playing the sitar in one of their songs; it was played by George Harrison.
Lennon started composing the song on his acoustic guitar in January 1965, while on holiday with his wife, Cynthia, in the Swiss Alps. Lennon later explained that the lyric was about an affair he had been having: "I was very careful and paranoid because I didn't want my wife, Cyn, to know that there really was something going on outside of the household. I'd always had some kind of affairs going on, so I was trying to be sophisticated in writing about an affair. But in such a smoke-screen way that you couldn't tell. But I can't remember any specific woman it had to do with."
Lennon indicated that Paul McCartney helped him finish off the lyric. McCartney explained the title and lyric as follows: "Peter Asher [brother of McCartney's then-girlfriend Jane Asher] had his room done out in wood, a lot of people were decorating their places in wood. Norwegian wood. It was pine, really, cheap pine. But it's not as good a title, "Cheap Pine", baby. So it was a little parody really on those kind of girls who when you'd go to their flat there would be a lot of Norwegian wood. It was completely imaginary from my point of view but in John's it was based on an affair he had. This wasn't the decor of someone's house, we made that up. So she makes him sleep in the bath and then finally in the last verse I had this idea to set the Norwegian wood on fire as revenge, so we did it very tongue in cheek. She led him on, then said, "You'd better sleep in the bath." In our world the guy had to have some sort of revenge … so it meant I burned the place down ….
NORWEGIAN WOODS
Lyrics by John Lennon and Paul McCartney
I once had a girl
Or should I say, she once had me
She showed me her room
Isn't it good Norwegian wood?
She asked my to stay and told me sit anywhere
So I looked around and I noticed there wasn't a chair
I sat on a rug, biding my time
Drinking her wine
We talked until two, and then she said:
"It's time for bed,"
She told me she worked in the morning and started to laugh
I told her I didn't, and crawled off to sleep in the bath
And when I awoke, I was alone
This bird has flown
So I lit a fire
Isn't it good Norwegian wood?