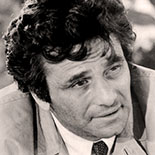 Peter Michael Falk (September 16, 1927 – June 23, 2011) was an American actor, best known for his role as Lt. Columbo in the television series Columbo.
Falk appeared in numerous films such as The Princess Bride, The Great Race and Next, and television guest roles. He was nominated for an Academy Award twice (for 1960's Murder, Inc. and 1961's Pocketful of Miracles), and won the Emmy Award on five occasions (four for Columbo) and the Golden Globe Award once. Director William Friedkin said of Falk's role in his film The Brink's Job (1978): "Peter has a great range from comedy to drama. He could break your heart or he could make you laugh."
In 1968, Falk starred with Gene Barry in a ninety-minute television pilot about a highly skilled, laid-back detective. Columbo eventually became part of an anthology series titled The NBC Mystery Movie, along with McCloud, McMillan & Wife and Banacek. The detective series stayed on NBC from 1971 to 1978, took a respite, and returned occasionally on ABC from 1989 to 2003. Falk was, "Everyone's favorite rumpled television detective," wrote historian David Fantle.
In 1996, TV Guide ranked Falk number 21 on its 50 Greatest TV Stars of All Time list.