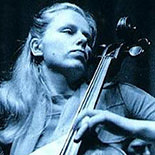 Jacqueline Mary du Pré, (January 26, 1945 – October 19, 1987) was a British cellist. She is particularly associated with Elgar's Cello Concerto in E Minor, her interpretation of which has been described as "definitive" and "legendary."
Her career was cut short by multiple sclerosis, which forced her to stop performing at the age of 28, and led to her premature death. Posthumously, she was the subject of a film entitled Hilary and Jackie (based on her siblings' memoir, A Genius in the Family) that was factually controversial and criticized for sensationalizing her private life.
Du Pré received several fellowships from music academies and honorary doctorate degrees universities for her outstanding contributions to music in general and her instrument in particular. In 1956, at the age of 11, she was the second recipient (after Rohan de Saram in 1955) of the prestigious Guilhermina Suggia Award, and remains the youngest recipient. In 1960, she won the Gold Medal of the Guildhall School of Music in London and the Queen's Prize for British musicians. She was appointed an Officer of the Order of the British Empire in the 1976 New Year Honors. At the 1977 BRIT Awards, she won the award for the best classical soloist album of the past 25 years for Elgar's Cello Concerto.