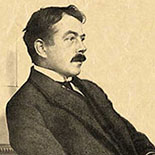 Robert Walser, German-speaking Swiss writer, (April 15 1878 – December 25, 1956).
Walser worked as a bank clerk, a butler in a castle, and an inventor's assistant before discovering what William H. Gass calls his "true profession." From 1899 until he was misdiagnosed as a schizophrenic in 1933 and institutionalized for the rest of his life, Walser produced nine novels and more than a thousand stories.
HOW SMALL
Robert Walser
How small life is here
and how big nothingness.
The sky, tired of light,
has given everything to the snow.
The two trees bow
their heads to each other.
Clouds cross the world's
silence in a circle dance
=======
THE LUCKY ONE
Robert Walser
People have a gift for mouth and eye
and ear, and houses have doors, corridors,
windows, and in the alleys, in the halls there
was always a lucky one, who carried with him
the mistakes of others, what a burden
it must have been that pushed him down,
but he was pleased by all this pushing.
Once, by the way, he went to search
for something in a grand garden.
Someone had given him a difficult task
he couldn't possibly hope to complete.
Dignified men and women stood
on the Altan, the terrace, that is,
and scrutinized him, a splendid
gathering, from which, like rockets,
emerged laughter, and on this substantial day
the stupid boy that he was broke a hand
painted cup, whereupon at once the scenery
was shifted. There was always something
important that remained strange to him,
he remained foolish, but of this something
one was perhaps rightly envious. He always
hauled the mistakes of many others
through life, and he was being pulled down
and up, he saw himself useful and useless,
lauded, blamed, and in pieces and whole