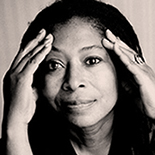 Alice Malsenior Walker (born February 9, 1944) is an American author and activist. She wrote the critically acclaimed novel The Color Purple (1982) for which she won the National Book Award.
Walker's first book of poetry was written while she was a senior at Sarah Lawrence. She took a brief sabbatical from writing while working in Mississippi in the civil rights movement. Walker resumed her writing career when she joined Ms. magazine as an editor before moving to northern California in the late 1970s. Her 1975 article "In Search of Zora Neale Hurston", published in Ms. magazine, helped revive interest in the work of Zora Neale Hurston. Hurston inspired Walker's writing and influenced her subject matter. In 1973, Walker and fellow Hurston scholar Charlotte D. Hunt discovered Hurston's unmarked grave in Ft. Pierce, Florida. The women chipped in to buy a modest headstone for the gravesite.
DESIRE
Alice Walker

My desire
is always the same; wherever Life
deposits me:
I want to stick my toe
& soon my whole body
into the water.
I want to shake out a fat broom
& sweep dried leaves
bruised blossoms
dead insects
& dust.
I want to grow
something.
It seems impossible that desire
can sometimes transform into devotion;
but this has happened.
And that is how I've survived:
how the hole
I carefully tended
in the garden of my heart
grew a heart
to fill it.
========
EVERY REVOLUTION NEEDS FRESH POEMS
Alice Walker
Every revolution needs fresh poems
that is the reason
poetry cannot die.
It is the reason poets
go without sleep
and sometimes without lovers
without new cars
and without fine clothes
the reason er commit
to facing the dark
and
resign ourselves, regularly, to the possibility
of being wrong.
Poetry is leading us.
It never cares how we will
be held by lovers
or drive fast
or look good
in the moment;
but about how completely
we are committed
to movement
both inner and outer;
and devoted to transformation
and to change.