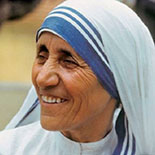 Blessed Teresa of Calcutta, commonly known as Mother Teresa (August 26, 1910 – September 5, 1997), was a Roman Catholic religious sister and missionary who lived most of her life in India.
She was born in what is today Macedonia, with her family being of Albanian descent originating in Kosovo.
Mother Teresa founded the Missionaries of Charity, a Roman Catholic religious congregation, which in 2012 consisted of over 4,500 sisters and is active in 133 countries. They run hospices and homes for people with HIV/AIDS, leprosy and tuberculosis; soup kitchens; dispensaries and mobile clinics; children's and family counseling programs; orphanages; and schools. Members must adhere to the vows of chastity, poverty and obedience as well as a fourth vow, to give "wholehearted free service to the poorest of the poor".
Mother Teresa was the recipient of numerous honors including the 1979 Nobel Peace Prize. In 2003, she was beatified as "Blessed Teresa of Calcutta". A second miracle credited to her intercession is required before she can be recognized as a saint by the Catholic Church.
———————————-
Photo
s of the Sisters of Charity are among The Face of Prayer, by Abraham Menashe, available from iTunes.