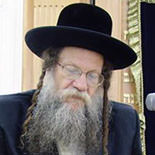 Rebbe Chaim Shaul, born March 21, 1951, served for many years as rosh yeshiva of Yeshivas Imrei Shaul and Darkei Torah in Bnei Brak.
In keeping with the long-standing tradition of Modzitz, the Rebbe composed ten new niggunim for Rosh Hashana of 5767 and twelve new niggunim for 5768 (corresponding to September 2006 and 2007), some of which have become popular among chareidi Jews in Israel.
Modzitz or Modzhitz is the name of a Hasidic group within Orthodox Judaism that derives its name from Modrzyce, one of the boroughs of the town of Dęblin, Poland, located on the Vistula River. The rabbis of this dynasty have the family name of "Taub".
Followers of this group are known as Modzitzer Hasidim and are now based mainly in Bnei Brak, where their Rebbe lives, and Jerusalem in Israel. They also have a smaller following in Brooklyn, Monsey, New York, and Far Rockaway, Queens, Los Angeles, and Toronto.