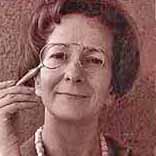 Wisława Szymborska-Włodek (July 2, 1923 – February 1, 2012) was a Polish poet, essayist, translator and recipient of the 1996 Nobel Prize in Literature.
Born in Prowent, which has since become part of Kórnik, she later resided in Kraków until the end of her life. She was described as a "Mozart of Poetry". In Poland, Szymborska's books have reached sales rivaling prominent prose authors: although she once remarked in a poem, "Some Like Poetry" ("Niektórzy lubią poezję"), that no more than two out of a thousand people care for the art.
IN PRAISE OF FEELING BAD ABOUT YOURSELF
Wislawa Szymborska
The buzzard never says it is to blame.
The panther wouldn't know what scruples mean.
When the piranha strikes, it feels no shame.
If snakes had hands, they'd claim their hands were clean.
A jackal doesn't understand remorse.
Lions and lice don't waver in their course.
Why should they, when they know they're right?
Though hearts of killer whales may weigh a ton,
in every other way they're light.
On this third planet of the sun
among the signs of bestiality
a clear conscience is Number One.
===========
LIFE WHILE-YOU-WAIT
Wislawa Szymborska
Life While-You-Wait.
Performance without rehearsal.
Body without alterations.
Head without premeditation.
I know nothing of the role I play.
I only know it's mine. I can't exchange it.
I have to guess on the spot
just what this play's all about.
Ill-prepared for the privilege of living,
I can barely keep up with the pace that the action demands.
I improvise, although I loathe improvisation.
I trip at every step over my own ignorance.
I can't conceal my hayseed manners.
My instincts are for happy histrionics.
Stage fright makes excuses for me, which humiliate me more.
Extenuating circumstances strike me as cruel.
Words and impulses you can't take back,
stars you'll never get counted,
your character like a raincoat you button on the run —
the pitiful results of all this unexpectedness.
If only I could just rehearse one Wednesday in advance,
or repeat a single Thursday that has passed!
But here comes Friday with a script I haven't seen.
Is it fair, I ask
(my voice a little hoarse,
since I couldn't even clear my throat offstage).
You'd be wrong to think that it's just a slapdash quiz
taken in makeshift accommodations. Oh no.
I'm standing on the set and I see how strong it is.
The props are surprisingly precise.
The machine rotating the stage has been around even longer.
The farthest galaxies have been turned on.
Oh no, there's no question, this must be the premiere.
And whatever I do
will become forever what I've done.
======
SEEN FROM ABOVE
Wislawa Szymborska
On a dirt road lies a dead beetle.
Three little pairs of legs carefully folded on his belly.
Instead of death's chaos—neatness and order.
The horror of this is mitigated,
the range strictly local, from witch grass to spearmint.
Sadness is not contagious.
The sky is blue.
For our peace of mind, their death seemingly shallower,
animals do not pass away, but simply die,
losing—we wish to believe—less of awareness and the world,
leaving—it seems to us—a stage less tragic.
Their humble little souls do not haunt our dreams,
they keep their distance,
know their place.
So here lies the dead beetle on the road,
glistens unlamented when the sun hits.
A glance at him is as good as a thought:
he looks as though nothing important has befallen him.
What's important is valid supposedly for us.
For just our life, for just our death,
a death that enjoys an extraordinary primacy.