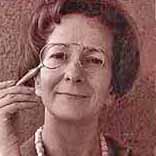 Wisława Szymborska-Włodek (July 2, 1923 – February 1, 2012) was a Polish poet, essayist, translator and recipient of the 1996 Nobel Prize in Literature.
Born in Prowent, which has since become part of Kórnik, she later resided in Kraków until the end of her life. She was described as a "Mozart of Poetry". In Poland, Szymborska's books have reached sales rivaling prominent prose authors: although she once remarked in a poem, "Some Like Poetry" ("Niektórzy lubią poezję"), that no more than two out of a thousand people care for the art.
IN PRAISE OF FEELING BAD ABOUT YOURSELF
Wislawa Szymborska
The buzzard never says it is to blame.
The panther wouldn't know what scruples mean.
When the piranha strikes, it feels no shame.
If snakes had hands, they'd claim their hands were clean.
A jackal doesn't understand remorse.
Lions and lice don't waver in their course.
Why should they, when they know they're right?
Though hearts of killer whales may weigh a ton,
in every other way they're light.
On this third planet of the sun
among the signs of bestiality
a clear conscience is Number One.