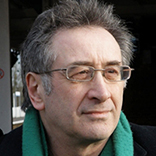 George Szirtes (born May 9, 1948) is a Hungarian-born British poet, writing in English, as well as a translator from the Hungarian language into English.
He has lived in the United Kingdom for most of his life. He was born Budapest, and came to England as a refugee in 1956 aged 8. He was brought up in London and studied Fine Art in London and Leeds. His poems began appearing in national magazines in 1973 and his first book, The Slant Door, was published in 1979. It won the Geoffrey Faber Memorial Prize the following year.
He has won a variety of prizes for his work, most recently the 2004 T. S. Eliot Prize, for his collection Reel and the Bess Hokin Prize for poems in Poetry magazine, 2008. His translations from Hungarian poetry, fiction and drama have also won numerous awards.
Szirtes lives in Wymondham, Norfolk, and teaches at the University of East Anglia. He is married to the artist Clarissa Upchurch, with whom he ran The Starwheel Press and who has been responsible for most of his book jacket images. Her interest in the city of Budapest has led to over twenty years of exploration of the city, its streets, buildings and courtyards in paintings and drawings.
TREE
George Szirtes
The visionary moment comes
just as it is raining, just as bombs
are falling, just as atoms
burst like a sneeze in a city park
and enter the dark
as if it were the waiting ark.
You open your hand and blow
the dust. You pick and throw
the stone. You make the round O
Of your mouth perfect as light
and the tree bends and stands upright
in the stolid night.