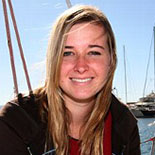 Abigail Jillian "Abby" Sunderland (born October 19, 1993) is an American sailor who, in 2010, attempted to become the youngest person to sail solo around the world.
The second-eldest of Marianne and Laurence Sunderland's eight children, Sunderland grew up sailing with her family. Her brother, Zac Sunderland, was the first person under the age of 18 to complete a circumnavigation. Her family is Christian. She and her siblings have been homeschooled.
A lifelong sailor, Sunderland said she had been preparing for her journey since age 13. She trained in ocean sailing with experienced sailors and with her father Laurence Sunderland, who said he understood her determination when "It was a particularly rough day and her boat was rocking from gunnel to gunnel. … I knew she was freezing cold, tired and hungry, and we'd been at it for, you know, 20 hours at that stage. I said, 'So Abby, are you ready to sail around the world now?' To which she replied, 'Where is my boat?'"
First Attempt: Sunderland started her solo circumnavigation from Marina del Rey, California on January 23, 2010. There hadn't been enough time to do a multi-day test sail in varying conditions, so the team decided to let her depart anyway, and stop in Cabo San Lucas, Mexico if needed. After a few days it became evident that her solar panels and wind generators were not meeting the energy needs of her boat in the conditions she met, so charging using the diesel engine was needed more than anticipated. There were also electrical problems in her mast wiring which affected her wind speed indicators. Sunderland landed at Cabo San Lucas on February 2, 2010, to take on more fuel and batteries, make repairs and restart her non-stop circumnavigation attempt.
Second attempt: Sunderland started her second attempt from Cabo San Lucas on February 6, 2010, intending to complete a solo, non-stop, unassisted circumnavigation in ten legs, departing from and returning to Cabo San Lucas. On February 19, 2010 at 3:07 PM PST, thirteen days after departing Cabo San Lucas, Sunderland and Wild Eyes crossed the Equator into the South Pacific at 0°N 120.25°W.
On February 27, 2010, there was media concern for Sunderland's safety because of the 2010 Chile earthquake. She was then at 15°S 123°W, some 1,860 miles (2,990 km) from the quake's epicenter, but the great ocean depth at her location minimized the effect of the resulting tsunami and her team reported she had not "… experienced anything out of the ordinary."
On March 21, 2010, while sleeping at approximately 2:00 AM local time, she suffered a knock-down and barely avoided an accidental jibe. On March 31, 2010 Sunderland rounded Cape Horn—the southernmost point of South America—making her the youngest solo sailor to do so. She experienced rough waves and heavy winds when approaching, but rather little wind the last day before Cape Horn.
On April 24, 2010, Sunderland announced that she would stop at Cape Town for repairs to her autopilot system, ending her non-stop attempt. However, she planned to continue the circumnavigation. Sunderland had two separate autopilot systems and both failed. She was able to swap parts between them to keep one going for a time, but a leak made the repair stop necessary. She arrived in Cape Town on May 5, 2010.
Sunderland departed from Cape Town on Friday May 21, 2010, defying the superstition against sailing on a Friday and saying, "I will stop again if I need to." By this time, it became likely her arrival in Cabo San Lucas or direct to Marina del Rey would be in August or possibly September.
Around May 24, 2010, a line got stuck near the top of her mast. Sunderland tried to climb the mast but found it too dangerous in the near gale conditions and full darkness, so she sailed throughout that night with too much sail area.
Dismanstic and rescue in the Indian Ocean: On the morning of June 10, 2010, Sunderland was sailing in high winds and had suffered multiple knockdowns in a remote area of the Indian Ocean northeast of the Kerguelen Islands, about 2,000 miles (3,200 km) west of Australia. Satellite phone contact was lost and about an hour later Sunderland's two manually operated emergency radio beacons were activated. A third beacon which triggers automatically if it goes 15 feet (4.6 m) underwater was not activated. The nearest known ship was about 400 miles (640 km) away from her electronically-reported position. Her beacon position at the time was published as 40°48′S 74°58′E, approximately 2,033 nautical miles (3,765 km; 2,340 mi) west-south-west of Perth.
The next morning, the Australian Maritime Safety Authority sent a chartered Qantas Airbus A330 passenger jet to the area with 11 trained SES air observers and a FESA officer on board. The search plane faced a 4,700 miles (7,600 km) round trip from Perth to Sunderland's boat, which is near the limit of its range. The boat was sighted about 10 minutes after the plane reached its search zone. Brief, short-range radio contact was made with Sunderland, who said she had righted the boat and was uninjured. Despite earlier fears her sailing yacht had lost its keel and capsized, the boat was upright but dismasted, its rig dragging in the ocean from the broken mast, which had made satellite phone reception impossible. Sunderland's mother said the pilot of the Australian search plane told her the boat had probably been "rolled by a rogue wave." Her father said his daughter's circumnavigation attempt had come to an end.
The area where Sunderland's yacht was adrift is rarely visited by merchant ships or other sea traffic. The Australian Maritime Safety Authority's Rescue Coordination Centre put together a sea response with three ships traveling to the scene. Sunderland was rescued by the French commercial fishing vessel Ile de la Reunion late in the afternoon on June 12, 2010. Air cover for the rescue was handled from a privately owned Global Express corporate jet, which also relayed communications between her and the fishing vessel before its crew launched a small boat to ferry her from the crippled sailing yacht. In a statement the Australian Maritime Safety Authority said "The master of the Ile De La Reunion has reported Ms Sunderland is safe and in good health." During her rescue, which took place in rough seas, the captain of the French fishing boat fell into the water and had to be "fished out in difficult conditions."
In Thousand Oaks, California, Laurence Sunderland told reporters "She got out of her vessel with the clothes on her back." Aboard the Ile de la Reunion Sunderland wrote that "one long wave" had brought about the dismasting of her sailboat Wild Eyes, which was abandoned to the ocean.
The Ile de la Reunion took Sunderland to the Kerguelen Islands where she boarded a French patrol boat, the Osiris, for an 8-day trip to Reunion Island.