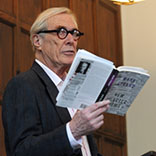 Mark Strand (born April 11, 1934 – November 29, 2014 was a Canadian-born American poet, essayist, and translator.
He was appointed Poet Laureate Consultant in Poetry to the Library of Congress in 1990.

EATING POETRY
Mark Strand
Ink runs the corners of my mouth.
There is no happiness like mine.
I have been eating poetry.
The librarian does not believe what she sees.
Her eyes are sad
and she walks with her hands in her dress.
The poems are gone.
The light is dim.
The dogs are on the basement stairs and coming up.
Their eyeballs roll,
their blond legs burn like brush.
The poor librarian begins to stamp her feet and weep.
She does not understand.
When I get on my knees and lick her hand,
she screams.
I am a new man.
I snarl at her and bark.
I romp with joy in the bookish dark.
==========
KEEPING THINGS WHOLE
Mark Strand
In a field
I am the absence
of field.
This is
always the case.
Wherever I am
I am what is missing.
When I walk
I part the air
and always
the air moves in
to fill the spaces
where my body's been.
We all have reasons
for moving.
I move
to keep things whole.
=========
MAN AND CAMEL
Mark Strand
On the eve of my fortieth birthday
I sat on the porch having a smoke
when out of the blue a man and a camel
happened by. Neither uttered a sound
at first, but as they drifted up the street
and out of town the two of them began to sing.
Yet what they sang is still a mystery to me—
the words were indistinct and the tune
too ornamental to recall. Into the desert
they went and as they went their voices
rose as one above the sifting sound
of windblown sand. The wonder of their singing,
its elusive blend of man and camel, seemed
an ideal image for all uncommon couples.
Was this the night that I had waited for
so long? I wanted to believe it was,
but just as they were vanishing, the man
and camel ceased to sing, and galloped
back to town. They stood before my porch,
staring up at me with beady eyes, and said:
"You ruined it. You ruined it forever."