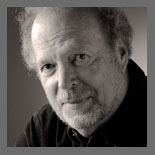 Joseph Stroud, born 1943, is an American poet.


MANNA
Joseph Stroud
Everywhere, everywhere, snow sifting down,
a world becoming white, no more sounds,
no longer possible to find the heart of the day,
the sun is gone, the sky is nowhere, and of all
I wanted in life – so be it – whatever it is
that brought me here, chance, fortune, whatever
blessing each flake of snow is the hint of, I am
grateful, I bear witness, I hold out my arms,
palms up, I know it is impossible to hold
for long what we love of the world, but look
at me, is it foolish, shameful, arrogant to say this,
see how the snow drifts down, look how happy
I am.
========
NIGHT IN DAY
Joseph Stroud
The night never wants to end, to give itself over
to light. So it traps itself in things: obsidian, crows.
Even on summer solstice, the day of light's great
triumph, where fields of sunflowers guzzle in the sun—
we break open the watermelon and spit out
black seeds, bits of night glistening on the grass.