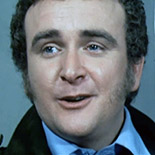 Tony Selby (born February 26, 1938) is an English actor.
He has appeared in many television programs including a starring role in RAF National Service comedy Get Some In!, and a recurring role in the BBC science fiction television series Doctor Who as the intergalactic conman Sabalom Glitz.
In 1965 he appeared as a convict under sentence of death in the BBC television drama Three Clear Sundays, directed by Ken Loach.
In 1971-2 he played magician's assistant Sam Maxstead in children's supernatural TV series Ace of Wands. He had one of his earlier acting roles in Alfie (1966), starring Academy award-winner Michael Caine, and his other film appearances include Press for Time (1966), Witchfinder General (1968), Before Winter Comes (1969), Villain (1971), Nobody Ordered Love (1972), and Adolf Hitler: My Part in his Downfall (1973). Another notable appearance was in Bless This House, as a depressed burglar. He appeared in three episodes of the critically acclaimed drama series Minder, twice playing Jack, the minder of gangster's wife Rose Mellors. In the early 1990s he played chauffeur to Adam Faith's character in the drama series Love Hurts; he also played Clive Mitchell in BBC's soap opera EastEnders in 2002.