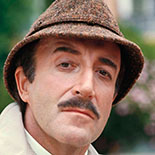 Peter Sellers, (born Richard Henry Sellers; September 8, 1925 – July 24, 1980) was a British film actor, comedian and singer.
Sellers performed in the BBC Radio comedy series The Goon Show, featured on a number of hit comic songs and became known to a world-wide audience through his many film characterizations, among them Chief Inspector Clouseau in The Pink Panther series of films.
In his personal life, Sellers struggled with depression and insecurities. An enigmatic figure, he often claimed to have no identity outside the roles that he played. His behavior was often erratic and compulsive, and he frequently clashed with his directors and co-stars, especially in the mid-1970s when his physical and mental health, together with his alcohol and drug problems, were at their worst.
Sellers was married four times, and had three children from his first two marriages. He died as a result of a heart attack in 1980, aged 54. English filmmakers the Boulting brothers described Sellers as "the greatest comic genius this country has produced since Charles Chaplin."