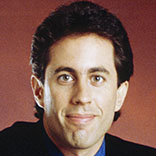 Jerome Allen "Jerry" Seinfeld (born April 29, 1954) is an American comedian, actor, writer, and television/film producer.
He is best known for playing a semi-fictional version of himself in the sitcom Seinfeld (1989–1998), which he co-created and co-wrote with Larry David. For the show's final two seasons, they were co-executive producers.
In his first major foray back into the media since the finale of Seinfeld, he co-wrote and co-produced the 2007 film Bee Movie, also voicing the lead role of Barry B. Benson. In February 2010, Seinfeld premiered a reality TV series called The Marriage Ref on NBC. Seinfeld directed Colin Quinn in the Broadway show Long Story Short at the Helen Hayes Theater in New York which ran until January 8, 2011.
Seinfeld is known for specializing in observational humor, often focusing on personal relationships and uncomfortable social obligations. In 2005, Comedy Central ranked Jerry Seinfeld 12th out of 100 as the greatest comedians of all time in its five-part special The 100 Greatest Standups of All Time.