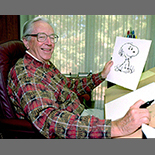 Charles Monroe Schulz (November 26, 1922 – February 12, 2000), nicknamed Sparky, was an American cartoonist, best known for the comic strip Peanuts (which featured the characters Snoopy and Charlie Brown, among others). He is widely regarded as one of the most influential cartoonists of all time, cited as a major influence by many later cartoonists. Calvin and Hobbes-creator Bill Watterson wrote in 2007: "Peanuts pretty much defines the modern comic strip, so even now it's hard to see it with fresh eyes. The clean, minimalist drawings, the sarcastic humor, the unflinching emotional honesty, the inner thoughts of a household pet, the serious treatment of children, the wild fantasies, the merchandising on an enormous scale — in countless ways, Schulz blazed the wide trail that most every cartoonist since has tried to follow."
A proponent of manned space flight, Schulz was honored with the naming of Apollo 10 command module Charlie Brown, and lunar module Snoopy, launched on May 18, 1969.
Schulz, reared in the Lutheran faith, had been active in the Church of God as a young adult and then later taught Sunday school at a United Methodist Church. In the 1960s, Robert L. Short interpreted certain themes and conversations in Peanuts as being consistent with parts of Christian theology, and used them as illustrations during his lectures about the gospel, as he explained in his bestselling paperback book, The Gospel According to Peanuts, the first of several books he wrote on religion and Peanuts, and other popular culture items.
From the late 1980s, however, Schulz described himself in interviews as a "secular humanist": "I do not go to church anymore… I guess you might say I've come around to secular humanism, an obligation I believe all humans have to others and the world we live in."

Above, first Peanuts strip, October 2, 1950. From left-to-right: Charlie Brown, Shermy, (original) Patty.
Peanuts made its first appearance on October 2, 1950, in seven newspapers. The weekly Sunday-page debuted on January 6, 1952. After a somewhat slow beginning, Peanuts eventually became one of the most popular comic strips of all time, as well as one of the most influential.
At its height, Peanuts was published daily in 2,600 papers in 75 countries, in 21 languages. Over the nearly 50 years that Peanuts was published, Schulz drew nearly 18,000 strips. The strips themselves, plus merchandise and product endorsements, produced revenues of more than $1 billion per year, with Schulz earning an estimated $30 million to $40 million annually.During the life of the strip, Schulz took only one vacation, a five-week break in late 1997 to celebrate his 75th birthday; reruns of the strip ran during his vacation, the only time reruns occurred while Schulz was alive.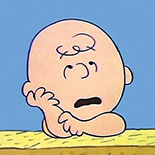 Charles "Charlie" Brown is the protagonist of the comic strip Peanuts by Charles M. Schulz.
Like Schulz, Charlie Brown is the son of a barber; but whereas Schulz's work is described as the "most shining example of the American success story", Charlie Brown is an example of "the great American un-success story" in that he fails in almost everything he does.
Charlie Brown is a "lovable loser", a child possessed of endless determination and hope, but who is ultimately dominated by his insecurities.
He first appeared in 1947, three years before Peanuts started, in a comic strip by Charles M. Schulz called Li'l Folks. He later appeared in the first Peanuts comic strip on October 2, 1950. He is one of the most well known characters in Peanuts and is considered to be the main character in the strip. Charlie Brown is always referred to by his full name (with the exception of Peppermint Patty who calls him 'Chuck') and his usual catchphrase is "good grief".
Despite the frequent abuse and belittling at the hands of other kids, Charlie Brown has many friends from school and on his baseball team. His best friend, however, is Linus van Pelt. One of the running gags in the strip is when Lucy holds a football for Charlie Brown to kick, she pulls it away from the ground, making Charlie Brown go flying, and landing on the ground, usually replying "good grief".
Charlie Brown stated in an early strip (November 3, 1950) that he was "only four years old", but he aged over the next two decades, being six years old as of November 17, 1957 and "eight-and-a-half years old" by July 11, 1979. Later references continue to peg Charlie Brown as being approximately eight years old. Another early strip, on October 30, 1950, has Patty and Shermy wishing Charlie Brown a happy birthday on that day, although they are not sure they have the date right.