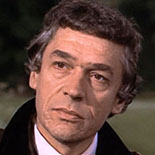 David Paul Scofield (January 21, 1922 – March 19, 2008), better known as Paul Scofield, was an English actor of stage and screen who was known for his striking presence, distinctive voice, and for the clarity and effortless intensity of his delivery. Regarded as one of the greatest Shakespearean actors of all time, Scofield's preferred the stage over film. This, and his decision to put his family first, has meant that he has never been as well known outside the United Kingdom as some other actors.
Outside his homeland, Scofield is best known for his Academy and BAFTA Award- winning performance as Sir Thomas More in the 1966 film A Man for All Seasons. Scofield had originally played the same part onstage at the West End and in a Tony Award-winning performance on Broadway.
Actress Helen Mirren, who appeared with Scofield in the 1989 film When the Whales Came, said of him, "He aspires to the soul rather than the character. He has no sense of personal ambition. He's one of our great, great actors. We're lucky to have him."
In 1990, actor and filmmaker Mel Gibson, who played Scofield's son in Franco Zeffirelli's Hamlet, compared the experience to being "thrown into the ring with Mike Tyson".