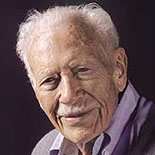 Viktor Schreckengost (June 26, 1906 – January 26, 2008) was an American industrial designer as well as a teacher, sculptor, and artist.
His wide-ranging work included noted pottery designs, industrial design, bicycle design and seminal research on radar feedback.
Schreckengost taught industrial design at the Cleveland Institute of Art (CIA) for more than 50 years and was a professor emeritus at CIA until his death. He was also the youngest faculty member ever at CIA (then known as the Cleveland School of the Arts). Schreckengost founded CIA's school of industrial design, the first of its kind in the country. His notable students include Giuseppe Delena, chief designer at Ford Motor Co.; Larry Nagode, principal designer at Fisher-Price (father of Ryan Nagode); John Nottingham and John Spirk, founders of innovation firm Nottingham Spirk, inventors of the first Dirt Devil handheld Vacuum; Joe Oros, head of the studio at Ford that designed the 1965 Ford Mustang, Sid Ramnarace, designer of the 5th generation Ford Mustang and Jerry Hirschberg, designer of the Infiniti J30 and the 1971 boat tail Buick Riviera.
Schreckengost enlisted in the Navy at age 37 to help the Allies in World War II. He was flown on secret missions to Europe where he used his modeling knowledge to help improve the radar used in the Battle of the Bulge. Later he helped design prosthetics for wounded soldiers. He retired from the Naval Reserves as a Captain. Schreckengost was also good friends with Cleveland safety director Eliot Ness.
Schreckengost designed the Jazz Bowl for Eleanor Roosevelt during his association with Cowan Pottery. He created (at the time) the largest freestanding ceramic sculpture in the world, Early Settler at Lakewood High School in Lakewood, Ohio. He designed bicycles manufactured by Murray bicycles for Murray and Sears, Roebuck and Company. With engineer Ray Spiller, he designed the first truck with a cab-over-engine configuration, a design in use to this day. And he created simple, modern dinnerware designs that became popular throughout the United States.