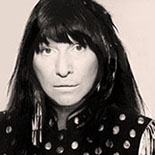 Buffy Sainte-Marie, (born February 20, 1941) is a Canadian-American Cree singer-songwriter, musician, composer, visual artist, educator, pacifist, and social activist. Throughout her career in all of these areas, her work has focused on issues of Indigenous peoples of the Americas. Her singing and writing repertoire also includes subjects of love, war, religion, and mysticism.
She founded the Cradleboard Teaching Project, an educational curriculum devoted to better understanding Native Americans. She has won recognition and many awards and honors for both her music and her work in education and social activism.
UNIVERSAL SOLDIER
Buffy Sainte-Marie

He's 5 foot 2 and he's 6 feet 4
He fights with missiles and with spears
He's all of 31 and he's only 17.
He's been a soldier for a thousand years
He's a catholic, a Hindu, an atheist, a Jain
A Buddhist, and a Baptist and Jew.
And he knows he shouldn't kill
And he knows he always will kill
You'll for me my friend and me for you
And He's fighting for Canada.
He's fighting for France.
He's fighting for the USA.
And he's fighting for the Russians.
And he's fighting for Japan
And he thinks we'll put an end to war this way.
And He's fighting for democracy,
He's fighting for the reds
He says it's for the peace of all.
He's the one, who must decide,
who's to live and who's to die.
And he never sees the writing on the wall.
But without him,
how would Hitler have condemned him at Dachau?
Without him Caesar would have stood alone
He's the one who gives his body
as a weapon of the war.
And without him all this killing can't go on
He's the universal soldier
And he really is the blame
His orders comes from
far away no more.They come from him.
And you and me.
And brothers can't you see.
This is not the way we put an end to war
UNTIL IT'S TIME FOR YOU TO GO
Buffy Sainte-Marie
You're not a dream, you're not an angel
You're a man
I'm not a queen, I'm a woman
Take my hand
We'll make a space in the lives
That we'd planned
And here we'll stay
Until it's time for you to go
Yes, we're different worlds apart
We're not the same
We laughed and played at the start
Like in a game
You could have stayed outside my heart
But in you came
And here you'll stay
Until it's time for you to go
Don't ask why of me
Don't ask how
Don't ask forever
Love me, love me now
This love of mine had no beginning
It has no end
I was an oak, now I'm a willow
I can bend
And though I'll never in my life
See you again
Still, I'll stay
Until it's time for you to go