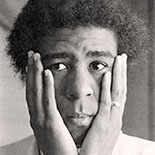 Richard Franklin Lennox Thomas Pryor (December 1, 1940 – December 10, 2005) was an American stand-up comedian, actor, film director, social critic, satirist, writer, and MC.
Pryor was known for uncompromising examinations of racism and topical contemporary issues, which employed colorful vulgarities, and profanity, as well as racial epithets. He reached a broad audience with his trenchant observations and storytelling style. He is widely regarded as one of the most important and influential stand-up comedians of all time: Jerry Seinfeld called Pryor "The Picasso of our profession"; Bob Newhart has called Pryor "the seminal comedian of the last 50 years." This legacy can be attributed, in part, to the unusual degree of intimacy Pryor brought to bear on his comedy. As Bill Cosby reportedly once said, "Richard Pryor drew the line between comedy and tragedy as thin as one could possibly paint it."
Pryor won an Emmy Award (1973), and five Grammy Awards (1974, 1975, 1976, 1981, and 1982). In 1974, he also won two American Academy of Humor awards and the Writers Guild of America Award. The first ever Kennedy Center Mark Twain Prize for American Humor was presented to him in 1998. Pryor is listed at Number 1 on Comedy Central's list of all-time greatest stand-up comedians.