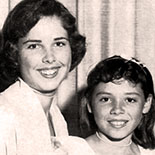 Patience Ann and Prudence Ann McIntyre Born in August 15, 1942 and July 12, 1945, known professionally as Patience and Prudence, were two sisters who were a young singing act in the 1950s.
Mark McIntyre was an orchestra leader, pianist, and songwriter who worked with Frank Sinatra in the 1940s. In the summer of 1956, he brought his daughters, 11-year-old Prudence and 14-year-old Patience, into the Liberty Records studio in Los Angeles, California. They made a demonstration recording of the song, "Tonight You Belong to Me," which had been a hit for Gene Austin in 1927, and was written by Billy Rose and Lee David. Liberty signed them and immediately released a recording of the girls singing the song as a commercial single (with the B-side, "A Smile and a Ribbon," a composition with music by Mark McIntyre) and by September the song reached #4 on the Billboard charts and #28 in the UK Singles Chart, and was the biggest selling record put out by Liberty for two years. It sold over one million copies and reached gold record status.
Their song "Gonna Get Along without Ya Now" reached #11 on the Billboard chart and #22 in the UK; its B-side, "The Money Tree," reached #73 in the U.S. They appeared on the Perry Como Show o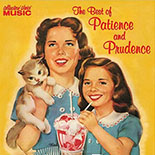 n television that same year.
They released several other singles on the Chattahoochee Records label. In 1978, they reunited to appear on a Dick Clark television feature. Collectors Choice issued a CD compilation of all their Liberty Records singles.