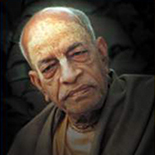 Abhay Charanaravinda Bhaktivedanta Swami Prabhupada, (September 1, 1896 – November 14, 1977) was the founder of the International Society for Krishna Consciousness, commonly known as the "Hare Krishna Movement".
Born Abhay Charan De "one who is fearless, having taken shelter at Lord Krishna's feet" in Calcutta, he was educated at the local Scottish Church College. Before adopting the life of a renunciant in 1950, he was married with children and owned a small pharmaceutical business. In 1959 he took a vow of renunciation (sannyasa) and started writing commentaries on Vaishnava scriptures. In his later years, as a traveling monk, he became an influential communicator of Gaudiya Vaishnava theology through his leadership of the International Society for Krishna Consciousness (ISKCON), founded in 1966.
During his years in the college, Abhay Charan De was a member of the English Society as well as that of the Sanskrit Society. He graduated with majors in English, philosophy and economics, however he rejected his diploma and wore the homespun cotton cloth the followers of Gandhi in protest of British rule in India.
A. C. Bhaktivedanta Swami sailed to the USA in 1965. His trip to the United States was not sponsored by any religious organization, nor was he met upon arrival by a group of loyal followers. As he neared his destination on the ship, the enormity of his intended task weighed on him, addressing Lord Sri Krishna, he wrote in his diary, "I do not know why You have brought me here. Now You can do whatever You like with me… How will I make them understand this message of Krishna consciousness? I am very unfortunate, unqualified and most fallen. Therefore I am seeking Your benediction so that I can convince them, for I am powerless to do so on my own"
Bhaktivedanta Swami considered Moses, Jesus, and Mohamed to be empowered representatives of God, describing them within his writings as pioneers of the same essential message of dedication to God with love and devotion. "Actually, it doesn't matter – Krishna or Christ – the name is the same. The main point is to follow the injunctions of the Vedic scriptures that recommend chanting the name of God in this age."
In the video, devotees chant Hare Krishna as Swami Prabhupada departs his body.