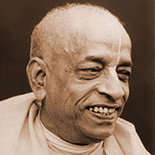 Swami Prabhupada, (September 1, 1896 – November 14, 1977) was a Gaudiya Vaishnavism spiritual teacher (guru) and the founder preceptor (acharya) of the International Society for Krishna Consciousness (ISKCON), commonly known as the "Hare Krishna Movement".



Hare Krishna
Hare Krishna
Krishna Krishna
Hare Hare
Hare Rama
Hare Rama
Rama Rama
Hare Hare
The Hare Krishna mantra, also referred to reverentially as the Maha Mantra ("Great Mantra"), is a 16-word Vaishnava mantra which first appeared in the Kali-Santarana Upanishad, and which from the 15th century rose to importance in the Bhakti movement following the teachings of Chaitanya Mahaprabhu.
According to Gaudiya Vaishnava theology, one's original consciousness and goal of life is pure love of God (Krishna). The word mantra comes from man (mind) and tra (to free). A mantra is a sound or prayer that frees the mind from the miseries of the material world.
The three holy names in the maha-mantra are Hare, Krishna, and Rama. Hare is pronounced "huh-ray". Hare means the energy of God. The Sanskrit word for energy is shakti. Shakti has a personal, specifically feminine, dimension to its meaning. So here, energy means the feminine aspect of God. Krishna is pronounced with a short "i". The correct pronunciation is KRISH-na, (not KREESH-na). Krishna means the All-Attractive Supreme Personality of Godhead. Rama is pronounced to rhyme with drama, RAH-muh. Rama means the reservoir of all pleasure.
The mantra is repeated, either out loud (kirtan), softly to oneself (japa), or internally within the mind. A.C Bhaktivedanta Swami describes the process of chanting the Maha Mantra as follows:
Krishna consciousness is not an artificial imposition on the mind; this consciousness is the original energy of the living entity. When we hear the transcendental vibration, this consciousness is revived … This chanting of 'Hare Krishna, Hare Krishna, Krishna Krishna, Hare Hare / Hare Rama, Hare Rama, Rama Rama, Hare Hare' is directly enacted from the spiritual platform, and thus this sound vibration surpasses all lower strata of consciousness – namely sensual, mental, and intellectual … As such anyone can take part in the chanting without any previous qualification.