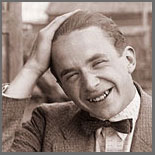 Henry George William Parland (July 29, 1908 – November 10, 1930) was a Swedish poet and writer.
Parland died of scarlet fever in Lithuania at the age of 22. He published only one collection of poems in 1929.
MY HAT
Henry Parland
My hat
was run over
by a trolley
yesterday.
This morning
my coat took a walk
to some place
far away.
This afternoon
my shoes
happened to get assassinated.
— I'm still here?
that's just
it.