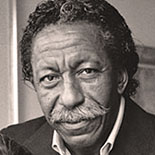 Gordon Roger Alexander Buchanan Parks (November 30, 1912 – March 7, 2006) was an American photographer, musician, writer and film director.
Parks is best remembered for his photographic essays for Life magazine and as the director of the 1971 film, Shaft. Parks was the first African American to work at Life magazine and the first to write, direct, and score a Hollywood film.
Parks was a co-founder of Essence magazine. He was one of the early contributors to the style of movies that became known as the blaxploitation genre, in which negative stereotypes of black males as being involved in drugs, violence, and women were exploited for commercially-successful films featuring black actors.
Parks said that freedom was the theme of all of his work. He described it as, "Not allowing anyone to set boundaries, cutting loose the imagination, and then making the new horizons."