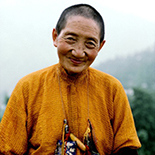 For 21 years, Ani Pachen (1933 – February 2, 2002) was a political prisoner, punished for her faith and refusal to denounce the Dalai Lama. She was beaten, and hung by her wrists for a week. She also spent a year in leg irons, and nine months in solitary confinement, with no light. The last 11 years were spent in Drapchi Prison in Lhasa, Tibet. During her time in prison, the Cultural Revolution was in full force. Ani Pachen saw her friends and compatriots executed or die of hunger. The three great monasteries of Tibet (Drepung, Sera and Ganden) were ransacked and burned.
She was given the name Pachen Dolma at birth, but became known as Ani Pachen after becoming a Buddhist nun. Her name translates roughly as Nun Big Courage.
Its aptness was suggested by her leading 600 resistance fighters on horseback against the tanks of the invading Chinese Communists, prompting some admirers to caller her Tibet's Joan of Arc. In prison she withstood being beaten and hung by her wrists for a week and spending a year in leg irons.
"I felt terrible for those who imprisoned me," she said, and also expressed sorrow for the captors who tortured her, saying she held the Buddhist belief that their cruelties resulted from karma from their past lives.
Pachen Dolma was the only child of a local chieftain from Gonjo in the province of Kham in eastern Tibet. She grew up surrounded by lamas and a loving family, said William Edelglass, a professor of philosophy who specializes on Tibet at Emory University. She learned to ride and shoot, even as she was drawn toward a spiritual life.
At the age of 17, she overheard talk of plans for an arranged marriage to the chieftain of another clan. She fled to a distant monastery and became a Buddhist nun. When her family relented on the marriage plans, she returned home and divided her time between learning from her father how to be a chieftain and religious studies.
The Chinese, who had invaded in 1950, were desecrating monasteries and killing Tibetans as they steadily advanced toward Kham. In 1958, Ani Pachen sat at her father's side in the war councils as the clan decided to fight back. Later that year, her father fell ill and died. She reluctantly decided her Buddhist pacifism must give way to warfare as the only way to save the religion in Tibet.
When Gonjo was overrun, she fled to the hills with her family and led the fighting. Her troops ambushed Chinese convoys and destroyed their camps, but were gradually defeated. In 1960, she was captured while trying to flee on foot over the Himalayas with her mother, aunt and aged grandmother. She was 25 when she began her 21-year imprisonment.
"When they arrested me they bound my hands and feet and hung me upside down and interrogated me," she said in a speech reported in the Buddhist magazine Shambhala Sun. "They beat me continuously. I would pass out and they would throw water on me and beat me some more. They shackled me for a year. They put me in a hole in the ground and forced me to live in my own feces."
She told her story in an autobiography, "Sorrow Mountain: The Remarkable Story of a Tibetan Warrior Nun," written with Adelaide Donnelly (Doubleday, 2000). Richard Gere, the actor and a Buddhist, helped get the book printed and wrote a preface.
"Rarely has the injustice of Chinese occupation been so movingly, or graphically exposed," said a review in The Sunday Times of London. Ani Pachen told how she was so hungry that she would rejoice when she found a worm in the soil. She said her Buddhist faith kept her alive: for instance, she was determined to complete 100,000 ritual prostrations during nine months of solitary confinement.
Ani Pachen was released from prison in January 1981. Instead of returning home, she remained in Lhasa and took part in several large demonstrations. Tipped off in 1988 that she was at risk for rearrest, she fled for the border. She settled in Dharmsala, joining other supporters of the exiled Dalai Lama, whom she had long dreamed of meeting. Her mother, aunt and grandmother had died. She left no survivors.
Ani Pachen traveled the world to speak for the Tibetan cause. For all her apparent equanimity, she acknowledged resentment over losing her youth in prison.
"I have not reached enlightenment — the absence of negative feelings," she wrote. "I want to have full compassion, but I spent half my life in prison and I still have some anger.'