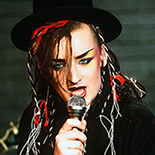 Boy George (born George Alan O'Dowd on June 14, 1961) is an English singer-songwriter, who was part of the English New Romanticism movement which emerged in the early 1980s.
His music is often classified as blue-eyed soul, which is influenced by rhythm and blues and reggae. His 1990s and 2000s-era solo music has Glam rock influences such as David Bowie and Iggy Pop. He also founded and was lead singer of Jesus Loves You during the period 1989–1992. Being involved in many activities (among them songwriting, writing books, designing clothes and photography), he has released fewer music recordings in the last decade.
Harper Collins published his first autobiography, Take It Like a Man, in 1995. In 2005, Century published Straight, his second autobiographical book. It stayed in The Sunday Times bestseller list for six weeks.