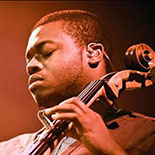 Kevin "K.O." Olusola (born October 5, 1988) is an American cellist, beatboxer, saxophonist, pianist, songwriter, producer, and singer.
Olusola is best known as the beatboxer of the widely acclaimed vocal band Pentatonix. After the group won NBC's The Sing-Off in 2011, they released 5 albums which all charted in the top 5 of the Billboard 200 charts, have sold over 900,000 records, and have amassed more than one billion views on their YouTube channel.
Olusola has also been identified as developing the art of "celloboxing" (playing cello and beatboxing simultaneously). His celloboxing version of Mark Summer's "Julie-O" went viral in April 2011, which led him to become involved with Pentatonix. Olusola has performed at prestigious classical musical festivals such as the Amsterdam Cello Biennale and the Kronberg Academy Festival, opened the TED Conference in Vancouver, and was chosen by Quincy Jones to represent him in concert at the 2012 Montreux Jazz Festival on the same program as Bobby McFerrin and Chick Corea. Olusola is fluent in Mandarin.