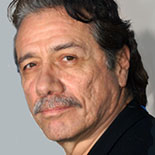 Edward James Olmos (born Edward Olmos; February 24, 1947) is an American actor and director.
Among his most memorable roles are William Adama in the re-imagined Battlestar Galactica, Lieutenant Martin "Marty" Castillo in Miami Vice, teacher Jaime Escalante in Stand and Deliver, patriarch Abraham Quintanilla, Jr. in the film Selena, Detective Gaff in Blade Runner, and narrator El Pachuco in both the stage and film versions of Zoot Suit. In 1988, Olmos was nominated for an Academy Award for Best Actor in a Leading Role for the film Stand and Deliver.
He has also been a longtime pioneer for more diversified roles and images of Hispanics in the U.S. media. His notable direction, production and starring roles for films, made-for-TV movies and TV shows include Wolfen, Triumph of the Spirit, Talent for the Game, American Me, The Burning Season, My Family/Mi Familia, Caught, 12 Angry Men, The Disappearance of Garcia Lorca, Walkout, The Wonderful Ice Cream Suit, American Family, and 2 Guns.