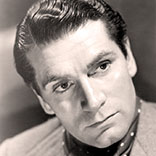 Laurence Kerr Olivier, Baron Olivier (May 22, 1907 – July 11, 1989), was an English actor, director, and producer.
Olivier is generally considered to have been one of the greatest actors of the 20th century.
During a six-decade career, Olivier played many roles on stage and screen. His three Shakespeare films as actor-director, Henry V (1944), Hamlet (1948), and Richard III (1955), are among the pinnacles of the bard at the cinema. On stage his more than 120 roles included Richard III, Macbeth, Romeo, Hamlet, Uncle Vanya, and Archie Rice in The Entertainer. He appeared in nearly sixty films, including William Wyler's Wuthering Heights (1939) and Alfred Hitchcock's Rebecca (1940). He was the founding artistic director of the National Theatre Company in 1963, a post in which he remained for a decade. He had earlier filled the same post at the Old Vic after the Second World War. The largest stage in the National Theater building was later named after him.
Olivier retired from the stage in 1974, but his work on-screen continued until the year before his death in 1989. For television, he starred in Long Day's Journey into Night (1973), The Merchant of Venice (1973), Cat on a Hot Tin Roof (1976), Brideshead Revisited (1981), and King Lear (1983), among others. His later films for cinema included Joseph L. Mankiewicz's Sleuth (1972), John Schlesinger's Marathon Man (1976), and The Boys from Brazil (1978).
Actor Spencer Tracy stated that Olivier was "the greatest actor in the English-speaking world", and others said he was the best in the world, or that he was the best they would ever see perform. Director Jonathan Miller (who directed Olivier in The Merchant of Venice) warned: "I hope that no actor tries to copy him." Olivier's AMPAS acknowledgments include twelve Oscar nominations, with two wins (for Best Actor and Best Picture for the 1948 film Hamlet), plus two honorary awards including a statuette and certificate. He also won five Emmy Awards from the nine nominations he received. Additionally, he was a three-time Golden Globe and BAFTA winner.
Olivier was the youngest actor to be knighted as a Knight Bachelor, in 1947, and the first to be elevated to the peerage two decades later. He married three times, to actresses Jill Esmond, Vivien Leigh, and Joan Plowright, his widow.