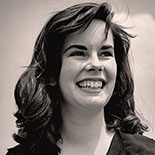 Oona O'Neill Chaplin, Lady Chaplin (May 14, 1925 – September 27, 1991) was the daughter of Nobel and Pulitzer-Prize-winning American playwright Eugene O'Neill and English-born writer Agnes Boulton.
Oona was the fourth and last wife of English actor and filmmaker Charlie Chaplin.
In Hollywood, O'Neill was introduced to Chaplin, who considered her for a film role. The film was never made, but O'Neill and Chaplin began a romantic relationship and married in June 1943, a month after she had turned 18. The 36-year age gap between them caused a scandal, and severed O'Neill's relationship with her father, who had already strongly disapproved of her wish to become an actress. Following the marriage, O'Neill gave up her career plans. She and Chaplin had eight children together and remained married until his death in 1977.