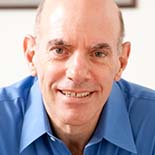 Mark Nepo (born February 23, 1951), is a poet and philosopher who has taught in the fields of poetry and spirituality for over 30 years.
Nepo is best known for his New York Times #1 bestseller, The Book of Awakening. He has published 12 books and recorded six audio projects. A cancer survivor, Nepo writes and teaches about the journey of inner transformation and the life of relationship.
Nepo has a doctorate in English. He taught for 18 years at the State University of New York in Albany, New York. He then moved to Kalamazoo, Michigan. In his 30s he was diagnosed with a rare form of lymphoma, a struggle which helped to form his philosophy of experiencing life fully while staying in relationship to an unknowable future.
In 2010 Oprah Winfrey chose Nepo's Book of Awakening as one of her Ultimate Favorite Things for her farewell season, launching it to the #1 spot on the New York Times bestseller list. Nepo has appeared several times with Oprah Winfrey on her Super Soul Sunday program on OWN TV. He was also interviewed by Robin Roberts on Good Morning America. Oprah has also written about Nepo twice in her O! magazine column, "What I Know for Sure" (most recently in April 2011). His recent book, Seven Thousand Ways to Listen (2012) won the Books for A Better Life Award.
ACCEPTING THIS
Mark Nepo
Yes, it is true. I confess,
I have thought great thoughts,
and sung great songs—all of it
rehearsal for the majesty
of being held.
The dream is awakened
when thinking I love you
and life begins
when saying I love you
and joy moves like blood
when embracing others with love.
My efforts now turn
from trying to outrun suffering
to accepting love wherever
I can find it.
Stripped of causes and plans
and things to strive for,
I have discovered everything
I could need or ask for
is right here—
in flawed abundance.
We cannot eliminate hunger,
but we can feed each other.
We cannot eliminate loneliness,
but we can hold each other.
We cannot eliminate pain,
but we can live a life
of compassion.
Ultimately,
we are small living things
awakened in the stream,
not gods who carve out rivers.
Like human fish,
we are asked to experience
meaning in the life that moves
through the gill of our heart.
There is nothing to do
and nowhere to go.
Accepting this,
we can do everything
and go anywhere.