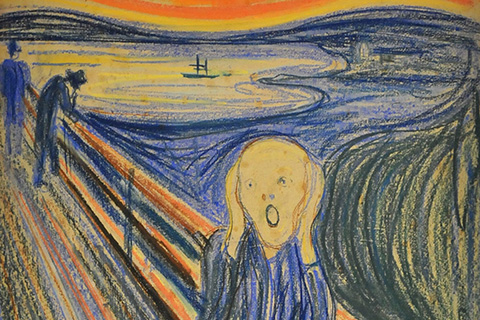 The Scream is the popular name given to each of four versions of a composition, created as both paintings and pastels, by the Expressionist artist Edvard Munch between 1893 and 1910. Der Schrei der Natur (The Scream of Nature) is the title Munch gave to these works, all of which show a figure with an agonized expression against a landscape with a tumultuous orange sky. Arthur Lubow has described The Scream as "an icon of modern art, a Mona Lisa for our time."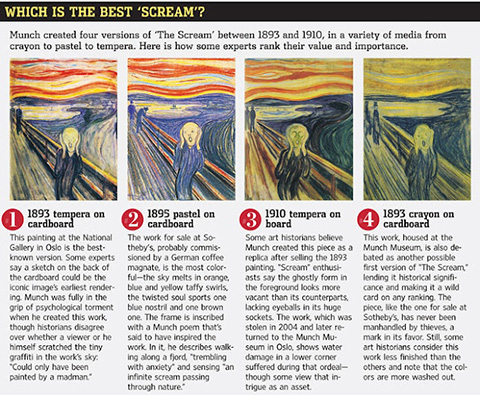 Edvard Munch created the four versions in various media. The National Gallery, Oslo, holds one of two painted versions. The Munch Museum holds the other painted version and a pastel version. These three versions have not traveled for years.
The fourth version (pastel, 1895) was sold for $119,922,600 at Sotheby's Impressionist and Modern Art auction on May 2, 2012 to financier Leon Black, the second highest nominal price paid for a painting at auction. The painting was on display in the Museum of Modern Art in New York from October 2012 to April 2013.
Also in 1895, Munch created a lithograph stone of the image. Of the lithograph prints produced by Munch, several examples survive. Only approximately four dozen prints were made before the original stone was resurfaced by the printer in Munch's absence.
The Scream has been the target of several high-profile art thefts. In 1994, the version in the National Gallery was stolen. It was recovered several months later. In 2004, both The Scream and Madonna were stolen from the Munch Museum, and were both recovered two years later.
The original German title given to the work by Munch is Der Schrei der Natur ("The Scream of Nature"). The Norwegian word skrik usually is translated as scream, but is cognate with the English shriek. Occasionally, the painting also has been called The Cry.
In his diary in an entry headed, Nice 22 January 1892, Munch described his inspiration for the image:
One evening I was walking along a path, the city was on one side and the fjord below. I felt tired and ill. I stopped and looked out over the fjord—the sun was setting, and the clouds turning blood red. I sensed a scream passing through nature; it seemed to me that I heard the scream. I painted this picture, painted the clouds as actual blood. The color shrieked. This became The Scream.
This memory was later rendered by Munch as a poem, which he hand-painted onto the frame of the 1895 pastel version of the work:
I was walking along the road with two friends – the sun was setting – suddenly the sky turned blood red – I paused, feeling exhausted, and leaned on the fence – there was blood and tongues of fire above the blue-black fjord and the city – my friends walked on, and I stood there trembling with anxiety – and I sensed an infinite scream passing through nature.